Do I Need Advanced Directives?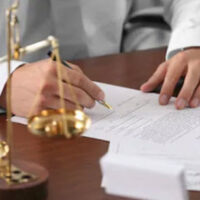 Whether you are getting ready to meet with a Putnam County or Westchester County asset protection lawyer or you are wondering about whether you need an attorney to help you with estate planning, you might have come across the term "advanced directives," which are sometimes written as "advance directives" in other states. You may be wondering if you need advanced directives, or if they should be part of your estate plan. While many people assume that advanced directives are only for older adults or those dealing with serious illnesses, our lawyers want to emphasize that every adult should consider advanced directives as part of their estate plan.
Advanced Directives Allow You to Have Control Over Your Health Care Needs
Advanced directives should be a part of anyone's estate plan because they allow individuals to have control over their health care needs. If you are unable to voice your wishes about particular care, or your desire not to receive certain forms of life-sustaining care, you can make those decisions known through advanced directives. As the New York Attorney General's Office explains, advanced directives are "legal documents by which you may make provisions for future health care decisions in the event that you are unable to make such decisions for yourself."
While older adults and anyone who is seriously ill should certainly have advanced directives in place, it is important to keep in mind that accidents and unexpected life events happen, and advanced directives can give you peace of mind.
Various Types of Advanced Directives
You should know that there are multiple types of advanced directives that can be beneficial to anyone engaging in estate planning, and each of the different advanced directives has a different purpose. Those types of advanced directives include the following:
Living Will: This type of document should not be confused with a will, which is also known as a last will and testament. To be sure, a living will is not a document through which you can leave assets to loved ones when you pass away. Rather, it is a document through which you can leave written instructions pertaining to your health care wishes if you cannot make those decisions yourself or become incapacitated. A living will only takes effect when you cannot voice your own health care decisions and when a doctor has confirmed that you have an incurable condition.
Health Care Proxy: This is a form through which you can appoint a health care agent who will have the ability to make health care decisions for you if you cannot make those decisions for yourself. Sometimes this document is known as a health care power of attorney. It will only take effect if two physicians confirm that you are incapacitated and cannot make health care decisions for yourself.
Do Not Resuscitate Order, or DNR: A DNR is a document that a doctor will write for you that instructs other health care providers not to perform life-saving treatments, including CPR, if you stop breathing or your heart stops beating.
Contact Our Mahopac Estate Planning Lawyers
If you have questions about creating advanced directives or any other type of estate planning document, our estate planning lawyers in Putnam County can assist you. Contact Meyer & Spencer, PC today.