Frequently Asked Questions About Estate Planning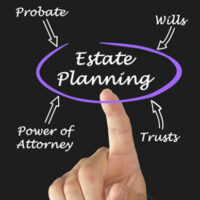 Estate planning can involve the creation of many different kinds of documents and tools, and there are many misconceptions about who needs to consider estate planning and what is involved in the process. Our estate planning attorneys have some frequently asked questions about estate planning, along with answers to help guide you as you think about your own estate planning needs.
Q: Should I Wait Until I Am Older or Sick to Consider Estate Planning?
A: You should not wait to consider estate planning. A common misconception is that estate planning is only for elderly people, or for people with certain illnesses or conditions. Every adult should consider estate planning and should work with an estate planning lawyer to make a valid will, to consider the benefits of a trust, to create advance directives, and to discuss other important estate planning strategies.
Q: Do I Need to Make a Will?
A: Yes, everyone should make a will. If you do not have a valid will when you pass away, you will die "intestate," and any assets you have that would have been distributed according to the terms of a will ultimately will be distributed based on New York intestacy laws. An estate planning lawyer can speak with you about the requirements for a valid will under New York law and can help you to make a will that can give you peace of mind.
Q: Do I Need to Create a Trust?
A: Not everyone will need or want to create a trust, but there are many different types of trusts that can be beneficial for a wide variety of reasons. For example, an asset protection trust can help with Medicaid planning, while a revocable living trust can allow you to have access to your assets during your lifetime while allowing those assets to pass to beneficiaries after your death without having to go through probate.
Q: If I Make a Will, Do I Still Need a Living Will?
A: Yes. A will is completely distinct from living will and, as such, they  are two completely different documents. A will (also known as a last will and testament) allows you to indicate how you want your property distributed upon your death, who you are naming to serve as a guardian of your children in the event of your death, and who you want to serve as executor of your estate. A living will is a document that states what kind of healthcare treatment you would not want under very limited circumstances where the treatment would serve only to prolong the process of your dying.
Q: What Does it Mean to Avoid Probate?
A: Probate is the legal process through which a will is authenticated by a Judge in the Surrogate's Court after the filing a Petition and adequate proof.  Once the court is satisfied as to the authenticity of the will, the executor marshals the assets, handles the debts and taxes of the estate and distributes property to heirs. Since the court probate process can be long and complex, many people choose certain tools of estate planning in order to avoid probate.
Contact Our Westchester County Estate Planning Lawyers Today
If you have any questions about estate planning, or if you have not yet made a will or created other critical estate planning documents, you should get in touch with an experienced Pleasantville estate planning lawyer at our firm. We can speak with you today about your particular circumstances and estate planning needs. Contact Meyer & Spencer, PC for more information.
Resource:
nysenate.gov/legislation/laws/EPT