What You Should Know About Long-Term Care Insurance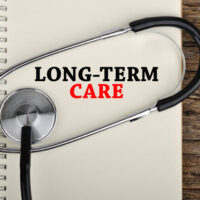 If you are thinking about planning ahead for long-term care and asset protection, it is important to understand how long-term care insurance works, the reasons people pay for it as a means of asset protection in the future, the costs of long-term care insurance, and the different types of plans that may be available to you. When you are considering asset protection and estate planning—either for yourself or for an aging family member—you should always seek assistance from an experienced elder law and asset protection attorney. In the meantime, we want to discuss some key things you should know about long-term care insurance.
Long-Term Care Insurance Allows You to Plan for Care in the Future
It can be difficult to imagine needing long-term care in the future, whether you are young and healthy or older and grappling with certain health issues. Nobody wants to think about the possibility of needing nursing home care, or hiring an in-home caregiver to assist with activities of daily living and to provide medications or medical care. Yet many Americans will need long-term care in some form. And paying for long-term care insurance sooner rather than later can allow you to plan effectively for the future and, ultimately, to protect your assets.
According to an article in Nerd Wallet, approximately 50 percent of adults aged 65 and older will require long-term care services at some point in time. Even two years of nursing home care can be extremely expensive. The New York Department of Financial Services reports that nursing home care costs, on average, between $140,000 and $165,000 per year for a nursing home in Westchester County. If you end up requiring nursing home care for about two years, it is likely to cost over $300,000 or more. And about 14 percent of older adults end up needing long-term care for five years or longer. If you have insurance that can cover these costs, you can protect the assets you have by keeping them in your family. In other words, you will not need to "spend down" in order to qualify for Medicaid nursing home coverage.
You Will Need to Qualify for Long-Term Care Insurance
If you want to purchase long-term care insurance, you should know that there are many different companies that sell it, and the policies vary. Generally speaking, however, you will need to be approved for coverage. Most long-term care insurance providers will require you to fill out an application that includes information about your health. You may also be required to supply medical records before you can be approved.
Costs Will Vary
Costs of long-term care insurance will vary depending upon factors such as your age, health, marital status, gender, and the specific insurance company and policy you select. While different policies do have distinct coverage options, most long-term care insurance policies will pay for care once you are unable to for a portion of recognized activities of daily living, or ADLs.
Most policies will pay for your choice of nursing home care, in-home care, or other care options, but it is critical to understand the specific language in your policy.
Contact a Westchester County Elder Law and Asset Protection Lawyer
Do you have questions about long-term care insurance? One of our Westchester County asset protection lawyers can help. Contact Meyer & Spencer, PC today.
Resource:
nerdwallet.com/blog/insurance/long-term-care-insurance/