Talking About Long-Term Care And Asset Protection With Your Elderly Parent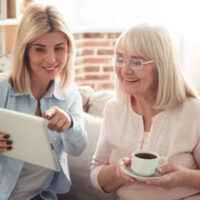 When you have an elderly parent who may soon require long-term care or may need to think about issues of asset protection in order to be eligible for long-term care through Medicaid, it can be difficult to know the best way to have conversations around this topic.  This is especially true if your parent has been resistant to doing so. Yet adult children often are the ones who are in the position of having to initiate such discussions and to help their parents make important financial decisions that will ultimately affect their health and well-being.
Maybe it is the COVID-19 pandemic that has led you to think about having this kind of conversation with your elderly parent.  Maybe it is your parent's specific health issues that have necessitated the conversation.  Or, maybe it is a health crisis suffered by one your parent's friends.  Regardless of the reason, you should speak with a Putnam and Westchester County asset protection lawyer who can help you to navigate these complicated topics. In the meantime, the following are some tips for you as you consider how to best address the matters of long-term care and asset protection with your parent.
Plan for an In-Person Visit If Possible 
Although the pandemic has made travel difficult, and has made it unsafe for many adult children to see their elderly parents out of concern for severe COVID-19 infections among older adults, in-person visits are becoming increasingly possible (and safe) as more people get vaccinated and seniors become protected from severe COVID-19 infections. If you are able to do so, you should plan for an in-person visit with your parent to discuss the issues of long-term care and asset protection. It is often easier to have a conversation in person than attempting to do so over the phone or over a video-call through FaceTime or Zoom.  They say that seventy percent of communication is non-verbal.  For an important conversation such as this one, it is better to not have technology impede your frank, caring and open conversation with your parent.
Ask Your Parent Questions Instead of Making Your Own Points 
While it can be tempting to state the facts as you see them (i.e. such as your elderly parent's inability to fully provide care for themselves, or the fact that your elderly parent has not purchased long-term care insurance or considered issues of asset protection in any way), this communication strategy often results in an older adult becoming defensive. It may be easier to ask your elderly parent questions and to have them identify the issue themselves. For instance, "are you having trouble keeping your balance around the house?" Or, you might ask, "have you considered how you will pay for care if you need it?"
Avoid an Intervention-Style Situation 
Consider your elderly parent's feelings and dignity when you are planning to discuss nursing home care or asset protection issues with them.  Try to remember that your parent's independence is important, as is their dignity and self-respect.  It is probably best to avoid an intervention-style meeting with your parent in which you and your siblings (or other concerned family members) all get together to discuss the matter. Your parent may feel as though everyone is "ganging up" on them or forcing them to make a decision.  Instead, consider which sibling is comfortable having this conversation with your parent.  Think about which sibling may be most likely to make your parent comfortable having the conversation and have them initiate it.
Contact a Mahopac Elder Law and Asset Protection Attorney for Assistance 
Do you have questions about discussing elder law and asset protection issues with your elderly parent? Or do you need help with asset protection matters? One of our experienced Mahopac elder law and asset protection attorneys can speak with you today about your situation and your concerns. Contact Meyer & Spencer, PC for more information about how our firm can help.