Does My Will Need a Simultaneous Death Clause?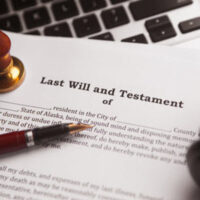 Here is a question we often get asked by married couples: If we both die at the same time, say in a common car accident, what happens to our respective estates? Does it matter which spouse technically died first, even if the deaths occurred just a couple of minutes–or even a couple of days–apart?
The short answer is that under New York law, when two people die within 120 hours (or 5 days) of one another, they are presumed to have each "predeceased" the other for purposes of inheritance. So if you and your spouse are in an accident and die within 5 days of one another, the law treats each of your estates as if the other spouse died first.
Now, the 120-hour rule is simply a default. You are allowed to specify a longer "survivorship" period in your will. For example, you might provide that anyone who stands to inherit under your will must survive you by 30 days. If the beneficiary fails to meet this requirement, their gift or inheritance is forfeited.
Close Deaths of Unmarried Partners Raise Survivorship, Common-Law Marriage Questions
As with all aspects of a will, however, you need to be careful when drafting any type of survivorship requirement. You also need to consider how a survivorship rule will be read in the context of the overall will. You might assume you are doing one thing, but a court that has to interpret the will after you die might end up doing something else.
A recent report from the New York Times illustrates what can go wrong with poorly drafted or ambiguous wills. The Times reported on an ongoing probate dispute over the disposition of a $9 million estate. The decedent was a psychologist who made a fortune in investing in real estate. For approximately two decades before her death, the decedent was involved in a long-term relationship with a female partner. Although New York legalized same-sex marriage in 2011, the decedent and her partner never married prior to the former's death in 2016. The partner passed away 12 days later.
According to the Times, the decedent's will made several specific gifts of property, including several items to the partner. Some, but not all, of these gifts came attached with a 30-day survivorship clause. These apparently included the gifts made to the partner, who did not meet the survivorship requirements.
The will further provides that any "residue" or remainder of the estate must go to three specified charitable organizations. This has prompted a legal fight between the charities and the heirs of the partner. The partner's estate maintains she should be treated as a "common-law" spouse of the decedent, which would mean she was entitled to a share of the estate regardless of the survivorship clause in the will. The charities oppose that interpretation. The matter is now pending before the appellate courts.
The Times article also noted that one of the problems in this case may be that a non-attorney assisted the decedent in revising her will. One lawyer told the Times the will was at best "ambiguous." That is never a word you want to hear associated with a will.
Get Professional Advice from a New York Estate Planning Attorney
Indeed, anytime you plan to make or revise a will, you should always work with a qualified Westchester County estate planning lawyer. Contact the offices of Meyer & Spencer, PC, to schedule an estate planning consultation today.
Source:
nytimes.com/2019/12/13/your-money/will-estate-planning-fight.html
https://www.meyer-spencer.com/the-legal-responsibilities-of-an-agent-under-a-durable-power-of-attorney/