Understanding End-of-Life Terminology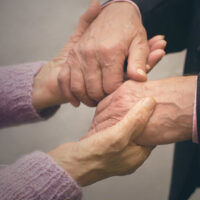 For the family of a person on hospice or nearing the end of life, there are many emotions to deal with.  Grief, sadness, depression, anxiety, and maybe even a bit of guilt can plague loved ones. Perhaps you are dealing with concerns about your loved one's estate and how you will manage it when they are gone.  No matter what, remember that your emotions are perfectly valid.  Grief is complicated, but unfortunately, so is healthcare.  Toward the end of life, many aging seniors are faced with a web of complex medical decisions, many of which must be made by adult children, spouses, and other close relatives.  Serious problems can arise when people do not fully understand these important terms.
At Meyer & Spencer, P.C., our elder law attorneys assist families with planning for the future and dealing with today.  Give us a call if you need help with an estate plan or resolving other complex matters involving end-of-life care.
Do Not Resuscitate Orders
A Do-Not-Resuscitate order or "DNR" is a simple, straightforward document.  It lets healthcare providers, caregivers, and relatives know that the individual, under limited circumstances, does not wish to receive life-saving assistance in the event that he or she should stop breathing or experience a heart attack.  This generally includes a request that no CPR, rescue breathing, or AED defibrillator be used.  A DNR does NOT mean that the person wishes to have basic needs left unmet or that care should be withheld.
A person with a DNR should still receive food, water, bathing assistance, and all of the other basic necessities of a life and death with dignity. Not all DNRs are valid in New York, so it's important to work with an attorney to make sure yours will hold up if challenged.
Comfort Measures Only
This is another common term used by healthcare and nursing home staff.  When a person is labeled "comfort measures," it means that no aggressive medical care or treatment is to be used to prevent disease, slow the progression of cancers and other illnesses, or to stop death.  It is a bit more final and impending than a standard DNR order.  In sum, it is a statement that typically means the individual (or their agent under a power of attorney) would like to allow the natural progression of a terminal illness to take their life, rather than fighting the condition through aggressive medical care.  Still, it is very important to point out that all of the basic mechanisms of care should continue.  Activities of daily living, bathing, feeding and support should remain in place unless otherwise instructed.
Living Will
In addition to basic estate planning documents like a will, powers of attorney, or a trust, a living will acts as a supplement to a formal health care proxy and advance directive.  It goes a step further than what a health care proxy can.  Agents named under a health care proxy can make decisions for you.  However, when it comes to issues involving the right to terminate medical treatment, the right to death with dignity, and the right to even over-rule a physician who may not agree with a patient's choices, nothing compares to a carefully crafted living will as an advance directive.
For help planning your final affairs far in advance or to deal with an impending crisis involving an end-of-life matter, call Meyer & Spencer, P.C. in Westchester County today.
Resource:
health.ny.gov/professionals/ems/policy/99-10.htm
https://www.meyer-spencer.com/beware-the-rising-costs-of-prescriptions-as-you-age/