Reviewing Your Estate Plan Over The Holidays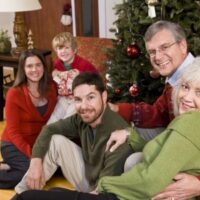 For those who have a will and advance directives, as well as other estate planning documents, it is a good idea to review these documents and their provisions annually. Because families often get together over the holidays and, as a result, various family issues — including both health and financial matters — can arise during larger family conversations or even one-on-one discussions, these events present a great opportunity to review your estate plan.  Think of the holidays as an opportunity to have important conversations with your family members.  Then, you can get in touch with a Westchester County or Putnam County estate planning lawyer in the early days of the New Year to look over your documents, to determine whether any revisions or amendments are necessary, and to implement those changes.
Make Yourself a Checklist of Issues to Discuss
Before you review your estate plan during the holidays and before you have those important family conversations, it's a good idea to make a checklist of issues for consideration and discussion. Here are some items to think about and see whether they apply to your situation:
New child in the family, including a new child or grandchild or niece or nephew;
Recent marriage, either your own or of a family member;
Death of a loved one over the last year;
Receiving an inheritance, or expectation of receiving an inheritance;
Divorce, either your own or the divorce of a family member;
Sale or purchase of a family business;
Serious health issues, either your own or a family member's;
Change in your assets or income over the last year; or
Recent involvement with a charitable organization.
Know That It is Possible to Amend Existing Documents or Draft New Ones
Aside from certain types of trusts, let us remind you that it is possible to amend, revise or alter existing estate planning documents.  In some cases, it may be better to draft new documents in place of existing ones. As long as you meet the requirements for making a valid will in New York, you can always work with your estate planning lawyer to make changes to your will (i.e., making a codicil) or to draft a new will to supersede the existing one. Likewise, if you have advance directives, including a Health Care Proxy form, a living will, or a Power of Attorney, you can sign new ones if you want to make changes. You should never feel as though you are stuck with decisions you made in prior iterations of your estate plan, , especially if your circumstances have changed.
Depending upon the type of trust you created, it may also be possible to make changes. Generally speaking, irrevocable trusts cannot be dissolved or altered, but a trustor may be able to dissolve or amend the terms of a revocable trust. Our estate planning lawyers in Pleasantville and Mahopac can provide you with more information.
Contact a Westchester County or Putnam County Estate Planning Attorney
It is important to review your estate plan at various points in your life, depending upon your personal situation and how recently you created important estate planning documents. For many people, the New Year and holidays provide a natural springboard to review your will, your advance directives, and other important estate planning materials. One of the experienced Westchester County estate planning attorneys at Meyer & Spencer, PC can talk with you today about your estate plan and how we can assist you with drafting new documents or reviewing existing ones. Do not hesitate to get in touch with our firm.
Sources:
law.justia.com/codes/new-york/2010/ept/article-3/
ag.ny.gov/sites/default/files/advancedirectives.pdf