Crisis Planning For Your Elderly Loved One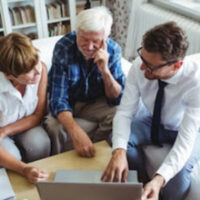 Estate planning has become more and more popular in recent years in Westchester County, as people are living longer and longer. However, sometimes life simply happens, and the need for sudden nursing home or hospice care can leave a family reeling if no plan has been put in place. If this has happened to you and your loved ones, consulting an experienced elder law attorney can help to ease your mind.
Care, Then Costs
The most common type of crisis that can necessitate contacting an elder law attorney is one where an individual has too many assets to qualify for Medicaid, but has serious enough health concerns where long-term nursing home, hospital, or hospice care will likely be necessary. While the first priority is, of course, getting your loved one the care they need, attention must be paid to finances at the same time, as difficult as it can be.
The reason for this is that nursing home care is incredibly expensive in the United States. Medicaid will pay for a person's care if they are eligible, but in order to be eligible, a person must have very little income and very few assets to their name – the government rationalizes that if someone has many assets, they can pay for their care themselves. If someone is in sudden need of this type of care, there may need to be a concerted spend-down of assets and sale of resources.
he Medicaid Look-Back Period Matters
In order to be eligible for Medicaid to cover long-term care, a person must have less than $30,180 in asset limits in New York, with less than $1,677 per month in income. However, Medicaid has what is known as a look-back period, in which is meant to guard against a person giving away or selling assets for less than their fair market values. This applies to transfers made either by the person needing care or by their spouse, and reaches back 60 months (5 years) if one is seeking institutional care.
This can understandably seem insurmountable for a person with no estate plan, or their family having to seek immediate care for them – any transaction during that period is subject to review, including gifts and charity donations. That said, there are numerous exceptions and loopholes in the regulations, and with the aid of an experienced Medicaid planning attorney, it is often possible to get on firmer footing.
Contact A Putnam County Elder Law Attorney
While it is always a good idea to have an estate plan for this kind of event, sometimes medical emergencies simply happen. A Westchester County elder law crisis planning attorney from Meyer & Spencer, PC can help to get any questions you may have answered, so that the focus can be on getting the care your loved one needs. Call our office today at (914) 741-2288 to speak to an attorney.
Source:
medicaidplanningassistance.org/medicaid-eligibility-new-york/