Six Things You Need to Know About Adult Guardianships in New York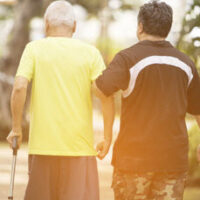 If you have a loved one who has lost the ability to make healthcare and financial decisions due to a cognitive or physical limitation, you need to understand how a guardianship works and whether it's right for your situation. Often, people end up needing guardianships because they failed to plan appropriately, while other times they may need court intervention in a dispute. Experienced New York guardianship lawyers can help you and your family make better choices and prepare for unexpected situations. Give Meyer & Spencer, PC a call to learn more.
#1 Powers of Attorney Supersede a Guardianship
People generally know that a power of attorney is a good idea, because it gives someone else the right and authority to make difficult decisions if you cannot. The bigger benefit, however, is that with a valid power of attorney in place, you can often avoid the need for a court-supervised guardianship proceeding.
#2 A Guardian is a Fiduciary
If you are thinking about petitioning the court for guardianship of a loved one, be sure you carefully assess your own financial and emotional wherewithal to undertake the task. You will be acting as a fiduciary, which means you must manage any decisions and assets in the best interests of the disabled adult.
#3 Commingling Assets Can be a Crime
Stealing from a ward (the disabled individual) is a crime. If you accidentally misappropriate funds that are held by a ward, you could face criminal penalties. The state provides resources to help you make good choices, but ultimately it's your responsibility to avoid commingling your own funds with those of the ward you are protecting.
#4 The Court Evaluator is Not Your Attorney
In fact, the Court Evaluator is also not the ward's attorney. A Court Evaluator serves the court. He or she is charged with acting as a neutral and independent voice to look out for the best interests of the ward by advising the court and acting as the "eyes and ears" of the judge outside the courtroom. A Court Evaluator has no attorney-client relationship with you or your loved one. Things you tell them are generally not confidential and are not protected. They have no direct authority to pay bills, collect assets, litigate disputes, or get involved in those matters. They will usually just observe and report their findings to the judge. In very complex cases, they may provide limited assistance and recommendations to protect the disabled adult, but it is almost always under the strict guidance of a judge.
#5 Disabled Adults Can Dispute Guardianship
Moreover, a disabled adult who is brought before the court for guardianship has a right to retain their own attorney. Some potential wards may be on the borderline between having legal capacity to manage their own affairs and not being able to do so. When this happens, they may dispute your attempt to have them declared mentally incompetent. If so, you could end up litigating a case against the very person you are trying to protect. This can create complex issues of ethics and obligations that require the assistance of your own attorney.
#6 Not All Attorneys Know How to Handle Guardianships
Guardianship cases are somewhat unique in that the judges who oversee them have extremely broad discretion to enter orders and hear evidence that may otherwise not be admissible. Many lawyers – even very experienced ones – may not have the routine experience handling these highly sensitive and emotionally charged cases.
If you are considering petitioning a court to become someone's guardian, it is a good idea to first check with a local guardianship attorney to find out the best approach before you file. Call Meyer & Spencer, PC today.
Resource:
nycourts.gov/courthelp/Guardianship/basics.shtml
https://www.meyer-spencer.com/possible-disputes-in-a-guardianship/