Probate Of A Foreign Will In New York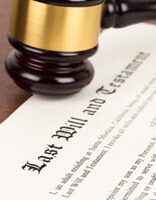 People who live in other states or countries and move to New York later in life may want to know whether their wills will be valid in New York. Foreign wills can be accepted and probated in New York as long as the wills meet the requirements in the state. For example, if a holographic will, written by a testator by hand, is acceptable in another state, it would not be acceptable in New York. New York does not accept holographic wills except under certain limited conditions.
A will is considered a foreign will if it was executed in another state or even another country. A foreign will written in another language is not automatically rejected because it can be translated and because there is no requirement under New York that a will be written in English only. A will needs to be in writing, signed by the testator and witnessed by two witnesses. The testator and the witnesses also need to be over the age of majority.
It is up to the court whether or not to accept a foreign will in New York. In some cases, there may be a person contesting the probate of the foreign will. The court considers several factors in determining whether to accept a foreign will for probate. These factors include: the relative value of the personal property in New York compared to the property in the other state or country; whether the executor named in the will is a New York resident; whether the beneficiaries are New York residents; whether the decedent left instructions for the will to be probated in New York; the convenience of the parties; and whether there is a possibility of unjust results.
When there is a question about which will is valid, a foreign will or a New York will, the resolution must first begin with determining whether both wills are validly executed. If both wills are validly executed, and there are no concerns that the will was a product of fraud or undue influence, then the will that was last to be executed usually controls. If there are beneficiaries in New York and in another jurisdiction, and some beneficiaries only receive property under one will and not the other, challenges to the will are to be expected.
If you have moved to New York and are planning on settling down in New York, you should consider updating your will in New York, and revoking prior foreign wills. In some cases, if you still have real estate in another state or country and additional property in New York, there may need to be two probate proceedings in both New York and the other state or foreign country.
Contact an Experienced Estate Planning Attorney
To have an experienced attorney guide you in writing your will or setting up a trust as part of your estate plan, contact a knowledgeable New York estate planning attorney at Meyer & Spencer, P.C. We are eager to assist you today.
Resource:
scholar.google.com/scholar_case?case=16408167305183376252&q=%22foreign+will%22&hl=en&as_sdt=4,33