Contested Wills: What You Should Know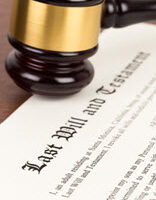 Estate planning is extremely important for a wide variety of reasons, from ensuring that your property goes to your heirs and beneficiaries according to your wishes and making certain that your loved ones have the care they need, as well as to take care of your own finances and health care in the event that you become unable to manage your affairs yourself. One of the most important parts of estate planning is creating a will. Yet there is more to creating a will than simply writing down your assets and which of your family members, friends, or favorite charities you want to receive those assets after your death. You need to make sure that your will is valid and to take as many precautions as you can to avoid a will contest after your death. Our Putnam County wills lawyers can help. The following are some key things to know about will contests in New York.
Need Grounds to Contest a Will in New York
In order for a person to contest your will after your death, that person will need to have grounds to contest the will. There are a variety of grounds on which a party can contest a will under New York law, including the following examples:
Improper execution of the will: One of the most common grounds for contesting a will is that it was not executed properly. Improper execution can mean one or more of many things such as the will was not signed, the will was not signed before two witnesses, the witnesses failed to sign the will, or another issue.
Undue influence: A party contesting a will might argue that there was undue influence. They will have to present evidence to suggest that the testator was coerced by another party into making the will.
Lack of testamentary capacity: If there is evidence to suggest that the testator lacked capacity to make a valid will, the will may be challenged on that basis.
Prior revocation: A will contest can also occur if there is evidence that the will in existence was revoked by the testator prior to their death.
Steps to Avoid a Contested Will
When you are working with an estate planning attorney, you can take certain steps to avoid a will contest or to reduce the likelihood that a party will come forward with grounds on which to contest your will. When it comes to improper or undue execution of the will, your attorney can ensure that you go through all requirements for a valid will under New York law. You can also discuss the decisions you have made in your will with your loved ones and can ensure that others know your decisions and understand why you made them.
While some people want to know about putting a "no contest" clause in a will, you should know that these are complicated and may not always be the best choice to avoid a will contest later on. Your estate planning lawyer can tell you more.
Contact Our Putnam County Estate Planning Lawyers Today
If you have questions about executing a valid will or taking steps to avoid a will contest, an estate planning lawyer at our firm can speak with you today. Contact Meyer & Spencer, PC for more information about wills and trusts in New York.
Resource:
nysenate.gov/legislation/laws/EPT